Back in the days when there were no Instagram, hashtags and followers, the fashion industry was not like it is today. The term "social media" didn't even existed, unlike today when it's very important for a model to have 300 000 + followers on various social networks. Models in the 90's didn't have to take behind-the-scenes selfies and couldn't tag the makeup artists and hairdressers. But they were Supermodels, and that was far more important than likes, comments and shares.
The term "supermodel" was first used in 1891 in The Standard Magazine, in an interview with artist Henry Stacy Marks, whose exact words were :
"A good many models are addicted to drink, and, after sitting a while, will suddenly go to sleep. Then I have had what I call the "super" model. You know the sort of man; he goes in for theatrical effect." – Henry Stacy Marks
This adjective was also linked to some models like : Anita Colby ("Cosmopolitan" 1949), Susan Chew ("Chinatown News" 1959), Jean Shrimpton ("Vogue" 1965), Twiggy ("The New Yorker" 1967), Margaux Hemingway ("Vogue" 1975), Beverly Johnson ("Jet" 1977).
And of course there were women like Dorian Leigh, Veruscha, Lauren Hutton, Penelope Tree, Wilhelmina Cooper, Christie Brinkley, Elle Macpherson, Gia Carangi, Yasmin Le Bon who enjoyed the status of being known as "super".
By the end of the 80's something happened with fashion. Models had earned respect and fame, for the hard work they did, and in the January 1990 issue of British Vogue, fashion photographer Peter Lindbergh introduced us the Original Supermodels.
British Vogue January 1990, photographed by Peter Lindbergh, models : Naomi Campbell, Linda Evangelista, Tatjana Patitz, Christy Turlington, Cindy Crawford
These girls had it all, money, power, respect. They started appearing in music videos, dated hottest musicians and were best friends with most prominent photographers like Peter Lindbergh, Patrick Demarchlier, Arthur Elgort and Herb Ritts.
We can see them in George Michael "Freedom" 1990 music video.
They became role models for women all across the world, whatever they did, or wore was immediately copied. They also had a great impact on healthy lifestyle, since they all had signed million-dollars-worth contracts with make up brands, and cosmetic lines. Some of them had their own fitness videos released. Models finally got the recognition they deserved.
Ladies and Gentlemen, The Original Supermodels:
Naomi Campbell
Naomi Campbell photographed by Steven Meisel for Vogue Italia October 1990
One of the Queens in the game of Fashion, Naomi started modeling since she was 15, and just before her 16th birthday she appeared on the cover of British Elle. Probably the most successful model of color, she faced discrimination in her early days. Turlington and Evangelista told Dolce and Gabbana "If you don't use Naomi, you don't get us." That's what I like about the Supers, they always had each other's backs. Naomi is still active, doing campaigns mainly for Balmain and has her own collection for Yamamay. Naomi is not going anywhere any time soon.
Linda Evangelista
Linda Evangelista photographed by Steven Meisel for Vogue Italia March 1993
The Chameleon of the group, known for her powers to transform herself, Linda has been featured on more than 700 magazine covers. Steven Meisel's muse told Vogue October 1990 "We don't wake up for less than $10 000 dollars a day." She's been modelling since she was 19, and she still lands magazine covers. Linda is a real fashion lover. Once she said : "I love everything about Fashion. I even love the fittings and watching it evolve from a pattern to a muslin to the final product. I used to stay with Azzedine Alaia until four in the morning, letting him stick pins into me, because it was a dream."
Tatjana Patitz
Tatjana Patitz "Veiled Face" photographed by Herb Ritts in 1988
This beautiful creature, with eyes like lynx was born in Germany and raised in Sweeden. At age 17, she won Elite Model Look and moved to Paris. Peter Lindbergh said that it's impossible not to be just a little bit in love with her. She is known that she looks different in every light, but is always beautiful. Tatjana had July and August 1989 covers of Vogue, which is very rare for a model to land two covers in two months in a row. That period is known as "the era of Tatjana". She eventually stopped doing modelling to focus on herself and her spiritual growth. Karl Lagerfeld called her for his Chanel Resort 2010 collection. She now lives with her son on a ranch, and rarely visits the Fashion world.
Christy Turlington
Christy Turlington wearing Azzedine Alaia, photographed by Arthur Elgort in 1987
Christy began modeling after school when she was 14. She has appeared on over 500 magazine covers and has been featured in several professional photobooks. Known as the insurance model of the group, because when clients booked her, they knew that nothing would go wrong. Mannequins at the Metropolitan Museum of Art in New York had their faces molded from her face. What an honor! Today Christy is an activist who founded Every Mother Counts, a non-profit organization dedicated to making pregnancy and childbirth safe for every mother.
Cindy Crawford
Cindy Crawford photographed by Annie Leibovitz, a1993
Cindy started modeling when she was 17, and quickly became known and well-paid. In the beginning she was known as "Baby Gia", because of her resemblance with model Gia Carangi. For some photoshoots, make up artist would make her up in a way that she looks similar to Gia. Famous for her mole, which became her trademark, Cindy has constantly being ranked highly on world's sexiest people lists. Today she does some campaign work, but she is stepping off the game to make place for her daughter Kaia Gerber, who inherited her good looks.
Claudia Schiffer
Claudia Schiffer photographed by Ellen Von Unwerth for Guess 1989
The German model, Karl Lagerfeld's muse, was only 17 when she was spotted in a nightclub in Dusseldorf by Michel Levaton, the head of Metropolitan Model Agency. She was one of the modern muses, and often named one of the most beautiful women in the world. Claudia walked for numerous shows, Chanel, Karl Lagerfeld, Bulgari, Chloe, Escada, Bluemarine, Louis Vuitton, Balmain, Lanvin and many others. She recently appeared in Balmain's Spring Summer 2016 campaign with fellow supermodels, Naomi and Cindy.
In the mid-90's came Kate Moss and started a trend known as "Heroin Chic" representing models with petite figures and dark circles under their eyes. But that was a dark period of Fashion history, because of the widely heroin use, death among fashion people and the controversy about models' very thin bodies. Then in 2000 came Gisele Bundchen, and she's also a proud member of the Sexy Supermodel era.
Cindy Crawford, Tatjana Patitz, Helena Christensen, Linda Evangelista, Claudia Schiffer, Naomi Campbell, Karen Mulder, Stephanie Seymour photographed by Peter Lindbergh in Brooklyn, New York, USA, 1991
These were all girls who came from nothing and made themselves, shaped themselves into powerful women, that we look up to. Being a model is not easy, on the contrary on what society believes, and these girls gave themselves and future models personalities and voices. With today's arising Instamodels, where the number of followers, and the model's family are more important than her looks and talent, we sure know one thing. They don't make them like this anymore.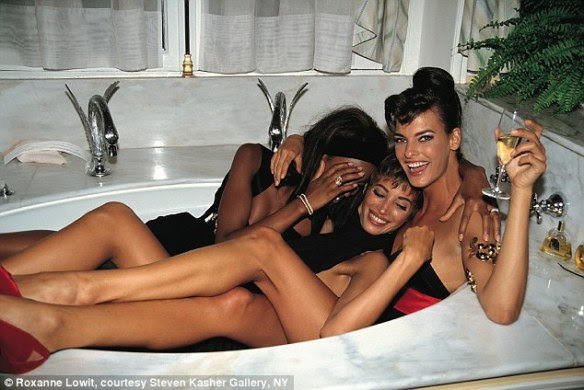 Naomi Campbell, Christy Turlington and Linda Evangelista photographed by Roxanne Lowit
Yours fashionably,
Mademoiselle Matea