Long before Anna Wintor's reign started, there was one particularly creative and influential woman – Diana Vreeland.
Called the Empress of Fashion, she was fashion editor of Harpers's Bazaar and Vogue, and special consultant at the Costume Institute at the Metropolitan Museum of Art. Probably the first person to turn museum into a nightclub, she was a fearless woman who knew no boundaries.
When you work in a field like fashion, you have to be very open minded, ready for new things and not afraid of changes. And Diana Vreeland was all that.
Born in the belle époque in France, the ugly duckling in her family admired the parasols and women's dresses.
When her family emigrated to the United States, she went to school, but did not like it and didn't understand English at all.
"I certainly did not learn anything at school, my education was the world!" Diana Vreeland
So she went to dancing school and was a pupil of Michel Fokine. There she was happy because all she did was dance. She lived in London, but frequently traveled to France, danced, went to dinners, and was a regular costumer at Chanel. Can you imagine Coco Chanel and Diana Vreeland in one room. I'm not sure the roof could hold on such greatness in one room.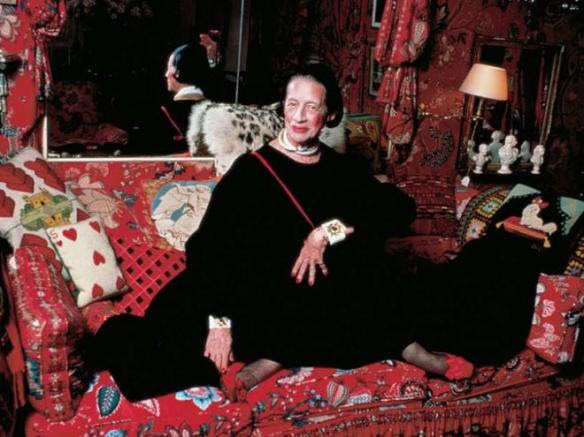 Diana married Reed Vreeland, a man she adored, in 1924. After their honeymoon they move to New York, their forever home. One beautiful night in New York while out dancing in Chanel dress, Diana was approached by Carmel Snow, the editor of Harper's Bazaar. She admired her style and offered her a job. At first Diana didn't know whether to accept because she never worked in her life, and was genuinely lazy person (I relate), but as soon as she started working she was amazed by how good that made her feel.
She was excited for her work and renewed the magazine. Before her Harper's Bazaar was about how one wife should make a pie, clean her husband's suit and look perfectly happy being a housewife. She changed that. She made women feel independent, powered and beautiful. From 1936 until her resignation in 1962, she wrote a column called "Why don't you?" Vreeland wrote some very attention-capturing things like "Why don't you wash your blond child's hair in dead champagne like they do in France?" Passed over promotion at Harper's Bazaar, Diana joined Vogue in 1962 and would remain there until 1971.
Interesting fact about her was that she never had staff meetings at both magazines, instead she would write memos. She had blogs with her memos, and I think that makes her the first blogger. Thank you Mrs. Vreeland!
Photograph by Richard Avedon for Harper's Bazaar 1960
The High Priestess of Fashion was probably the first person to give the models a personality and give celebrities chance to model. Diana discovered Twiggy, Veruschka, Lauren Hutton, Edie Sedgwick, Lauren Becall, and helped the careers of Richard Avedon, David Baley, Barbara Streisand, Cher, Oscar de la Renta and Diane von Futsenberg among others. Do you now understand her importance?
Veruschka photographed by Richard Avedon for Vogue 1966
Vreeland was known for making people's flaws their most valuable asset and emphasized them. For example she shot Barbara Streisand and her Nefertiti's nose for Vogue spread and with that shoot Barbara to the stars.
After her being fired from Vogue and her husband's death Diana was a little devastated. One day she got a call from the MET with a job offer. From 1971 to 1984 she organized twelve exhibitions. Diana displayed the dolls in such ways that it would seem like they had encounter with each other. She said "If they don't look like they are having fun, how would you expect the guests to have fun?" Good point, Mrs. Vreeland.
For her first exhibition opening night she made a party that enraged the directors of The MET, and all she had to say was "I'm bringing people in the museum, I don't see any harm in that."
This extraordinary person was inspiration for everything. She had charisma like no other. Two characters in movies are based on her. Miss Maxwell in "Who Are You, Polly Maggoo" (1966) and Maggie Prescott in "Funny Face" (1957). A biopic for her life"The Eye Has To Travel" was released in 2011 chronicles her as she called "Faction of Life", because her life was both Fact and Fiction. I strongly recommend you to watch it.
Diana Vreeland died in 1989 in New York. There's so much more to write about her, for she's a great inspiration. She will remain the one and true fashion editor, seeing magazine spreads like pieces of art. She was not afraid to spend lots of money on trips and clothes just to get the perfect shot. A very strong woman, who knew that Fashion needed a change. Fashion needed Diana Vreeland.
Yours fashionably,
Mademoiselle Matea