Pearls, pearls, pearls… Epitome of elegance, beauty and strength. They enchant us with their shine, color and their symbolic.
A pearl is a hard object produced within the soft tissue (specifically the mantle) of a living shelled mollusc. They come in various shapes such as round, semi-round, oval, button or drop and colors, mostly white, black, pink, champagne and even purple, but to collect enough of other colors except white to form a complete string would take years.
Necklace with oval, round and drop white pearls.
Through out history, pearls are worn by both women and men, because we all adore them. They are mentioned in the Hindu religion, the Lord Vishnu wears pearls on his chest, you can see portraits of kings, queens, dukes, high society members proudly wearing their pearls. And also there is the famous painting by Johannes Vermeer, "The Girl with a Pearl Earring", created in 1665, that celebrates the beauty and the simplicity of the pearl.
Beautiful isn't it?
Pearls were worn as jewelry for a very long period of time. Lot's of designers choose to add pearls to their collections, because they add elegance to the whole outfit. Chanel, Dior, Yves Saint Lauren, Oscar de la Renta are among the houses that regularly use pearls. They use them as jewelry, or stitch them to the clothes or accessories.
We must not forget Lupita Nyongo's Calvin Klein dress, entirely made of 6000 white Akoya pearls, which he wore at the Oscars in 2015.
So why do we love these precious gems so much? They attract us, real or fake, we love them and love to combine them with our outfits. Below is a picture from Dries Van Noten Fall Winter 2016 collection. Two simple pears made into a beautiful and very chic ring. Love it and would absolutely wear it!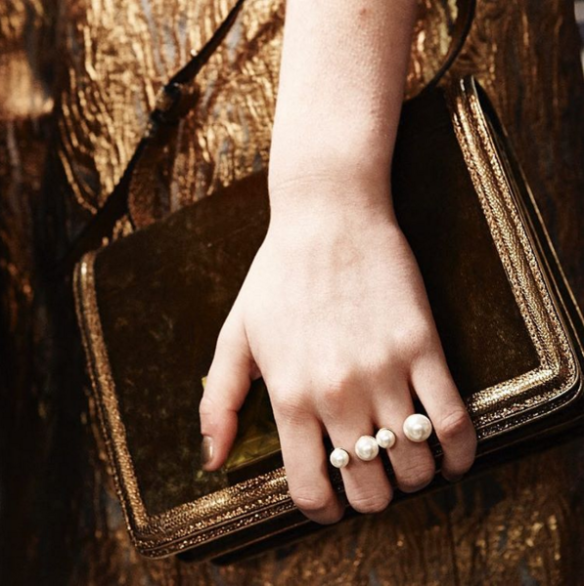 Yours fashionably,
Mademoiselle Matea