It's the most wonderful time of the year! The sun and serotonin are up, everybody starts showing off their legs, and the world seems like a pretty good place to live after all. It's summertime, and the living is quite easy. Especially if you are chilling at the beach, or by the pool, wearing a bikini, drinking refreshing cocktail, and checking out everyone that passes across your vision field, looking for a potential fling you'll remember your summer by.
Have you ever wondered why we don't usually sunbathe naked, and how did these two-piece garments, also known as bikini, came to be associated with sun, beach, pool and fun?
It all began some 3000 years ago, in the Greco-Roman world (these people seem to have invented everything), where the bikini can be seen drawn on an urn, or a mosaic, worn by women who participate in athletics.
Mosaic found in Villa Romana del Casale (286-305 AD)
While the Greeks were very free spirited and open minded, their descendants weren't. A number of social factors, like politics and religion, did not let people liberate their body, making modesty the most respected characteristic. There was little or no need of bathing suits until the late 18th century.
n 1907, Australian swimmer and performer Annette Kellerman was arrested on a Boston beach for wearing form-fitting sleeveless one-piece knitted swimming tights that covered her from neck to toe, a costume she adopted from England.
Annette Kellerman in 1909
She inspired many European women to start wearing this particular piece of bathing costume.
The next big step forward was few years later, in 1913, when designer Carl Jantzen made the first functional, socially acceptable bathing suit.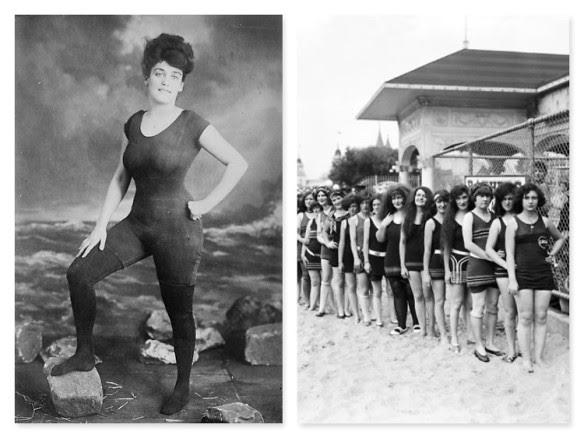 Carl Jantzen's swimwear designs 1913
Following the years of the Jazz Age, everyone wanted to have fun and get a tan. We can blame Coco Chanel for setting the trend of tanning, when she caught too much sun during a Mediterranean cruise. Since then, people started showing their skin more, and the bikinis had significantly decreased the amount of materials.
Fast forward to 1946, Casino de Paris dancer Micheline Bernardini modeled the world's first bikini at the pool – cementing the already fashionable complex in fashion history.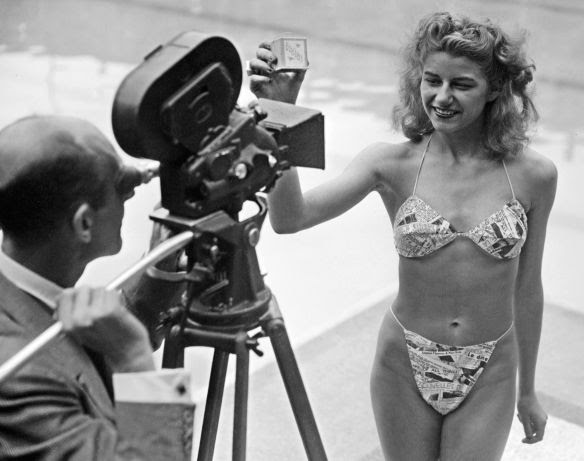 Micheline Bernardini modeling the world's first bikini at the Piscine Molitor swimming pool
A year later, The Empress of Fashion, Diana Vreeland who ruled the fashion world, stated that "The bikini is the most important thing since the atom bomb." She put the most beautiful model at that time, Dovima, in the May 1947 issue of Harper's Bazaar, wearing very sexy, two piece bikini. There was no woman at that time who didn't want to look like this :
Dovima in Harper's Bazaar May 1947
During the 50's, the bikini raised its popularity with the likes of movie stars and femme fatales like Marilyn Monroe, Ava Gardner, Rita Hayworth, Elisabeth Taylor and Brigitte Bardot. Since they were the most influental women of their days, can you imagine the rise of demand for bikini?
In 1962 came Sean Connery in the role of James Bond, with him came the first Bond girl, Ursula Andress and her famous sexy, self made white bikini, which has its own Wikipedia page.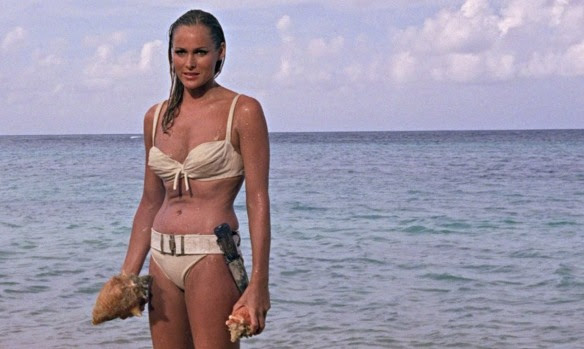 Ursula Andress in Dr. No (1962)
Raquel Welch's fur bikini in One Million Years B.C. (1966) gave the world the most iconic bikini shot of all time and the poster image became an iconic moment in cinema history. Her deer skin bikini in One Million Years B.C., advertised as "mankind's first bikini", was later described as a "definitive look of the 1960s". Her role wearing the leather bikini raised Welch to a fashion icon and the photo of her in the bikini became a best-selling pinup poster.
Raquel Welch in "One Million Years BC" (1966)
So that was a short history of the bikini. Nowadays, the demand for it is constantly high. You can find variety of shapes, sizes and colors. There's a bikini for everyone. So what are you waiting for, put on your sexiest bikini, hold your head up, and start breaking hearts at the beach. Oh and don't forget to put on a sunscreen.
Yours fashionably,
Mademoiselle Matea